AlternativeFreePress.com
New leaks by NSA whistleblower Edward Snowden reveal that the NSA has collected information via surveillance of at least 122 world leaders.
Reports from Der Spiegel & The Intercept detail a top secret presentation by NSA's Center for Content Extraction, which is responsible for automated analysis of all types of text data.
So far, only 12 names have been revealed, with the heads of state arranged alphabetically by first name.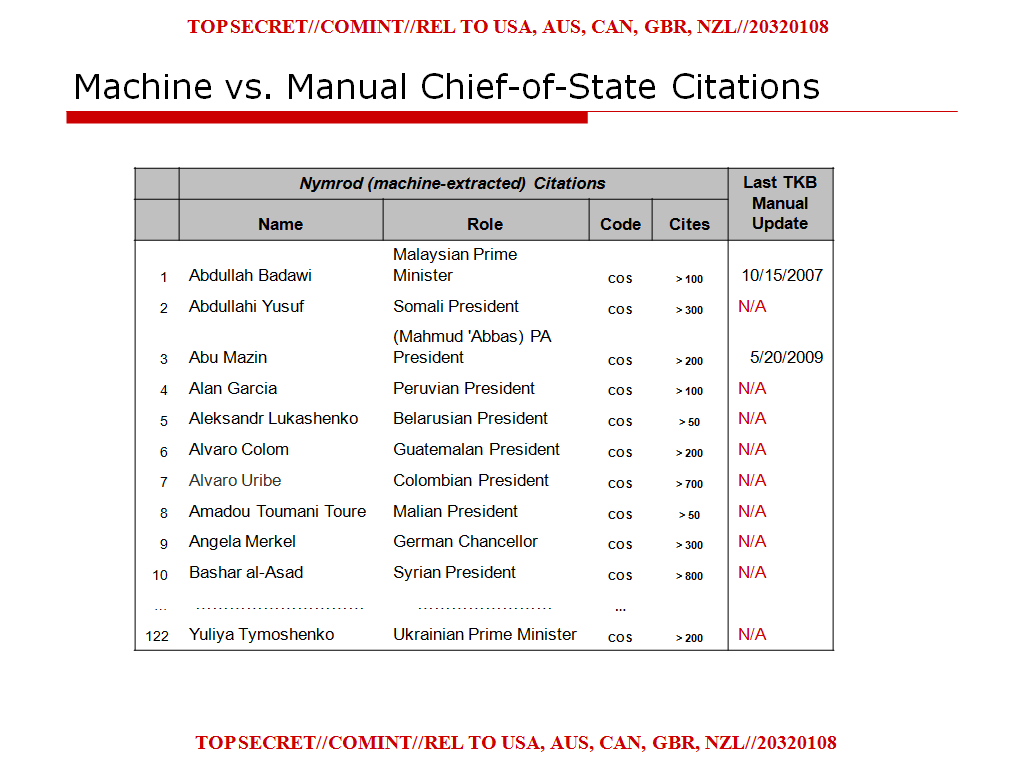 The so-called Target Knowledge Database (TKB) includes "complete profiles" of the individuals under surveillance.
Der Spiegel writes that the automated name recognition system, Nymrod, deals with transcripts of intercepted fax, voice and computer-to-computer communications, and has provided around 300 citations just for German Chancellor Angela Merkel.
A Special Sources Operations (SSO) division report shows that the NSA had received a court order specifically to spy on Germany issued by The Foreign Intelligence Surveillance Court on March 7, 2013. NSA uses these court orders to legitimize the interception of communications related to named countries or groups. Der Spiegel reports the court has provided similar authorization for measures targeting China, Mexico, Japan, Venezuela, Yemen, Brazil, Sudan, Guatemala, Bosnia and Russia.
There is a lot more information available at Der Spiegel & The Intercept.
Written by Alternative Free Press


Snowden docs reveal NSA spied on 122 world leaders by AlternativeFreePress.com is licensed under a Creative Commons Attribution-ShareAlike 4.0 International License.